They say communication is the key to a good relationship and we provide multiple mediums to communicate with us! A new link has been added to this site in the upper right hand corner aptly labeled 'COMMUNICATE' that displays the ways to interact with us.
Of course we can be called or emailed with the details from our Contact Us Page.
The Powercode Community Slack is a live message board populated by Powercode users and employees. This channel is the best resource for asking solving problems, asking questions or sharing new ideas. This private channel is highly active and a tremendous resource for any Powercode user.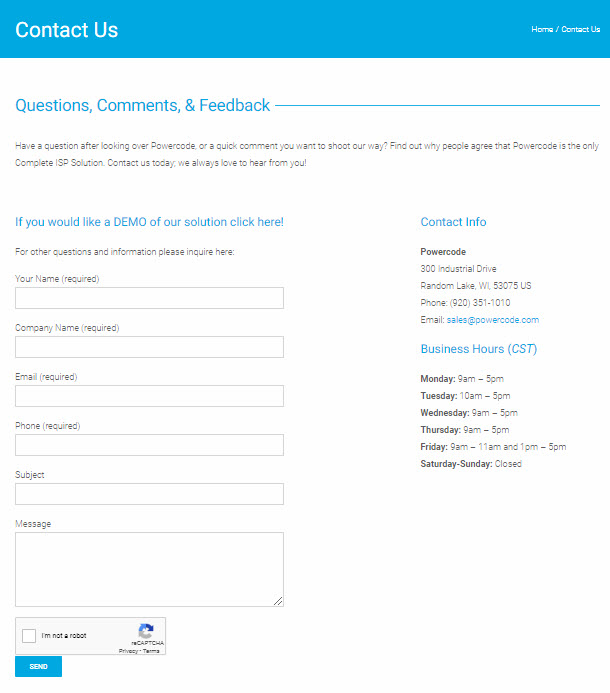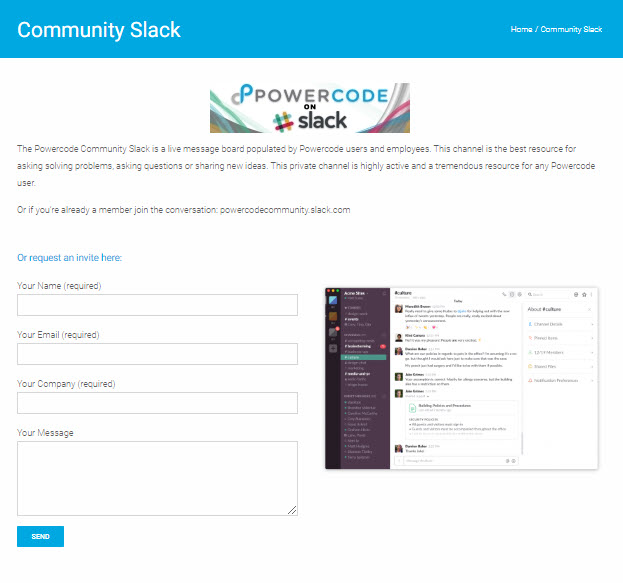 Did you know that Powercode has a newsletter called The Bridge that covers any announcements of cool stuff we're working on plus a highlight of something new to the software and another section on handy features that have been around for a while plus more!
You can sign up to receive The Bridge from our Subscription Management Center.
Also, catch up on what you missed in previous issues from our The Bridge Archive page.
Want to know as soon as there's a new version of Powercode available and what exciting new features have been added? Then sign up to received email updates when we publish a new changelog in the Subscription Management Center
To stay up to date on all of our exciting news articles, like this one, sign up to receive an email whenever we publish a new post in our Subscription Management Center too!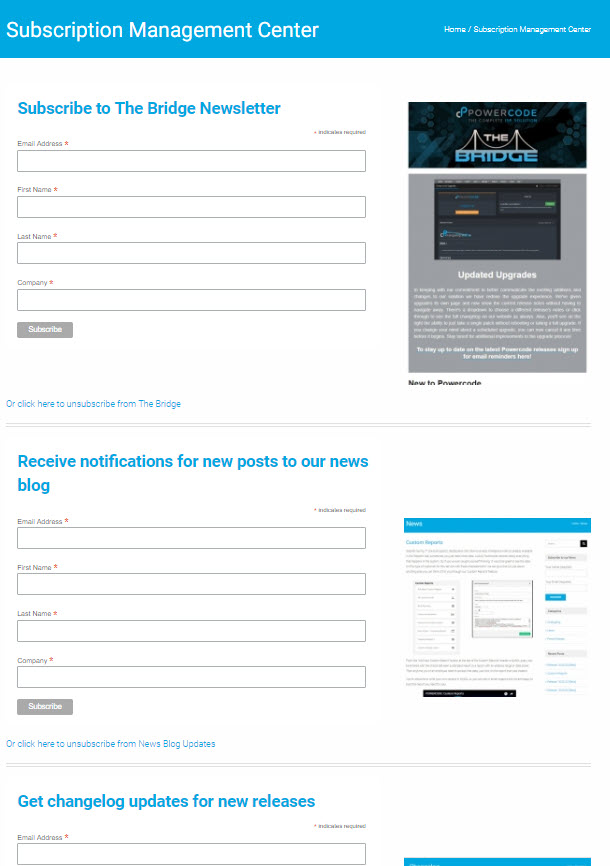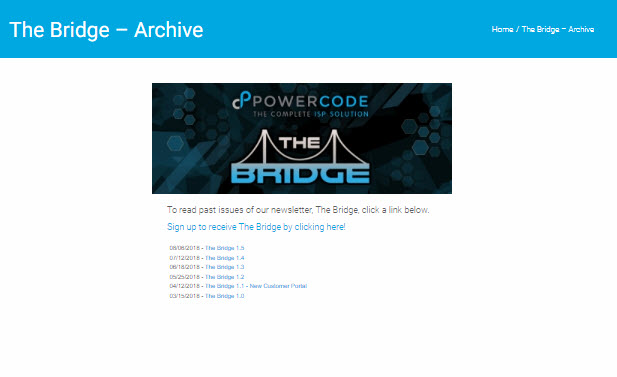 And of course there's always Facebook. Make sure to like our page HERE to stay connected.
For additional interaction there is a privately moderated Users Group on Facebook as well.
Finally if we have a YouTube channel at youtube.com/c/powercode where we post all our videos and tutorials plus some other fun stuff every once in a while.
If you haven't yet, we look forward to connecting with you!
Despite having 77 pre-built reports, dashboards and other business intelligence metrics already available in the 'Reports' tab, sometimes you just need more data. Luckily Powercode records nearly everything that happens in the system. So if you've ever caught yourself thinking "it would be great to see the data on this type of customer for this service with these characteristics" we can give that (or just about anything else you can think of) to you through our 'Custom Reports' feature.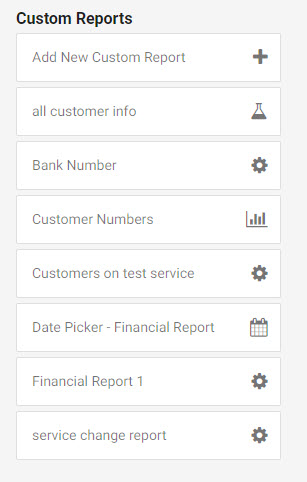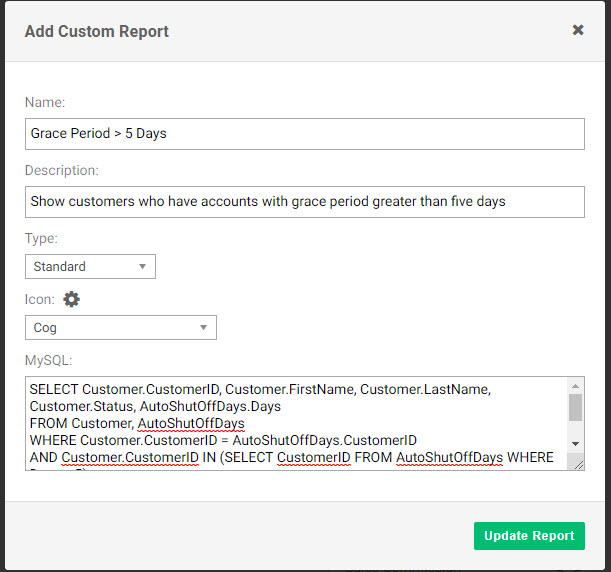 From the "Add New Custom Report" button at the top of the Custom Reports' header a MySQL query can be entered with the choice between a standard report or a report with an address range or date picker. Then anytime you or an employee need to access that data, just click on the report that was created.
You're welcome to write your own reports in MySQL or you can call or email support and we are happy to build the report you need for you!
As you're staring your ISP everyone does everything and people jump in where they can. However as you begin to scale and bring on additional employees, specialization occurs and the more access users have the more problems can happen. You may not want a support agent to be able to apply any credit they want and there's also areas of our software that many employees probably don't need to see like the financial dashboard. We have built granular permissions the admin can set so users can access or see only what they need to do their job but not be in areas they don't belong.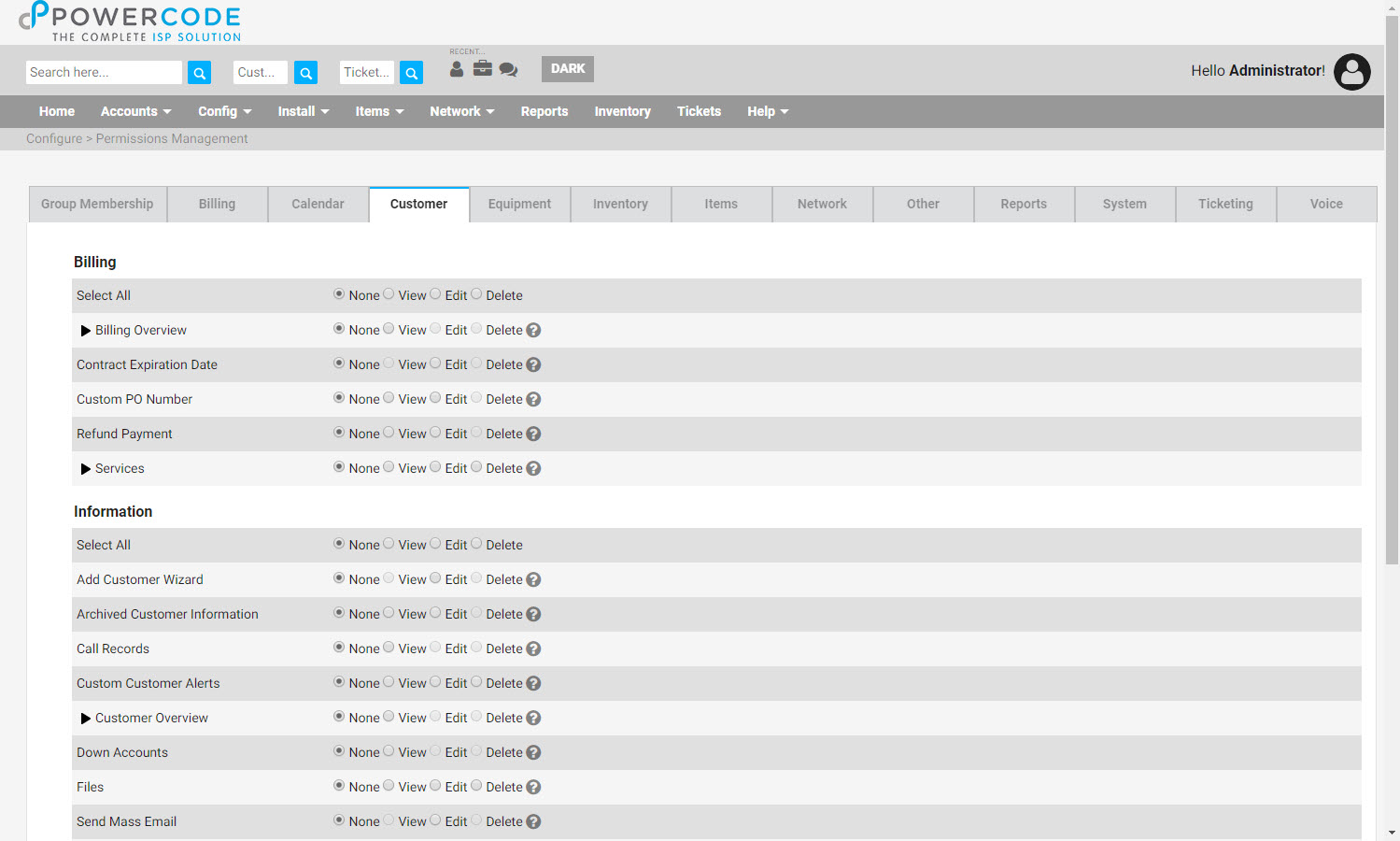 To use permissions, navigate to the 'Config' tab, then 'System Configuration' and click on 'Permissions'. The best thing to do is find a group that has the most similar permissions set for the user(s) then select 'Clone' from the 'Select an action' dropdown on the right. Name the group and add the desired users, note that a user can be in multiple groups and will be held to the most restrictive setting applied to them. Then click through each tab and select whether the user can see a function (switch from 'none' to 'view') or impact it, like applying a credit or taking entering a card number (change to 'edit'). Also be aware that there are functions nested under every arrow that become selectable once the first function is set to 'view' or 'edit'. To see it in action watch the video here:
Need a simple time clock solution for your employees? We have one built right into Powercode! Once enabled, whenever a user logs in it starts the clock in the upper right hand corner which runs until the user logs off. There's also the option to automatically log out a user if they've been idle for a pre-set duration. Then reference the reports that show the duration, last activity and number of page loads for all users for a given day. Or view the more traditional report showing the same data for a given user over time.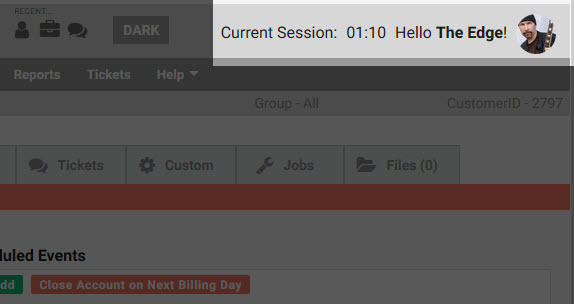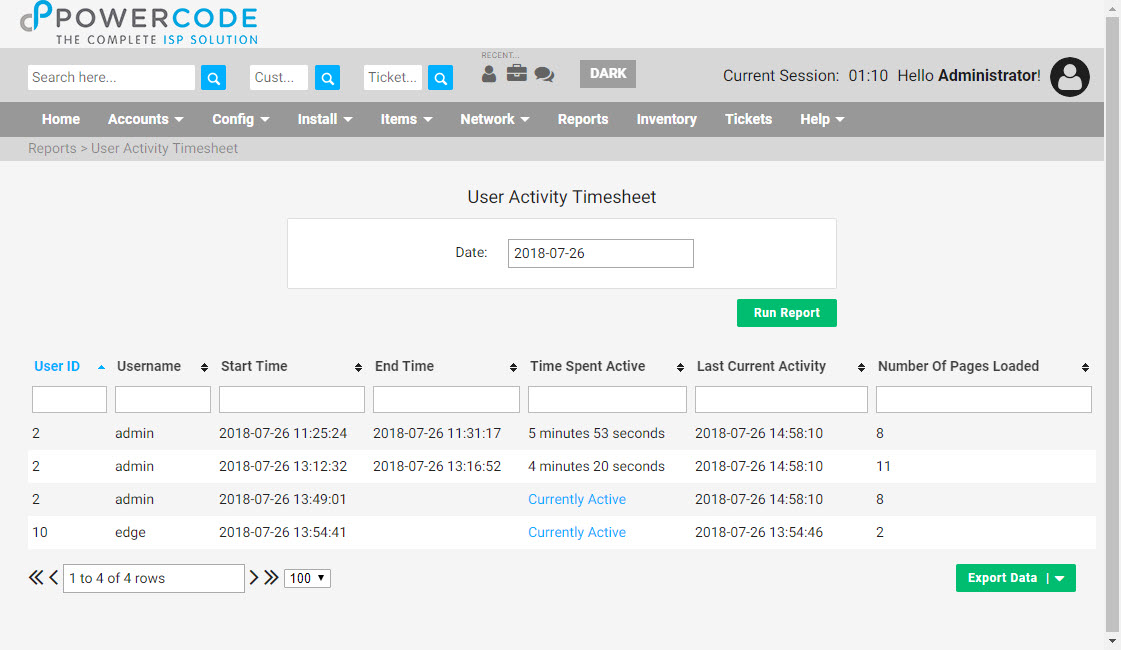 To begin using this feature, from the 'Config' tab navigate to 'System Configuration' then 'System'. On the bottom right under 'Services and Controls' change the 'User Check In Required' dropdown to 'On'. After that set the 'Idle Time Before Check Out' and whether or not the running time clock should be displayed. From there the two reports live under the'System Reports' heading on the 'Reports' Tab.
We've added a new report to help you see a breakdown of all your sub accounts and their relevant transactions, something that was not readily available before. We display a details of the taxable and taxed debits and credits for each category under your Account Classes. You can choose form any date range and drill down by Tax Zone if needed. As with all our our newly resigned reports, in addition to a .csv or .pdf you can export to excel or print directly.
This handy tool can be found under the 'Reports' tab at the top of any page. Then it's under the 'Financial Reports' heading right below the Account Class Report. So see it in action see below!
Things happen in your network and sometimes waiting for upset callers to call in doesn't provide the best customer service or maybe you're looking to up-sell some customers into a higher speed service. These are two of the many great uses for the Mass Notification feature in Powercode. From the 'Accounts' tab select 'Send Mass Notification'.  Also note that if you have Twillio SMS integration enabled then there's the option for sending both text and email with different messages for the same notification.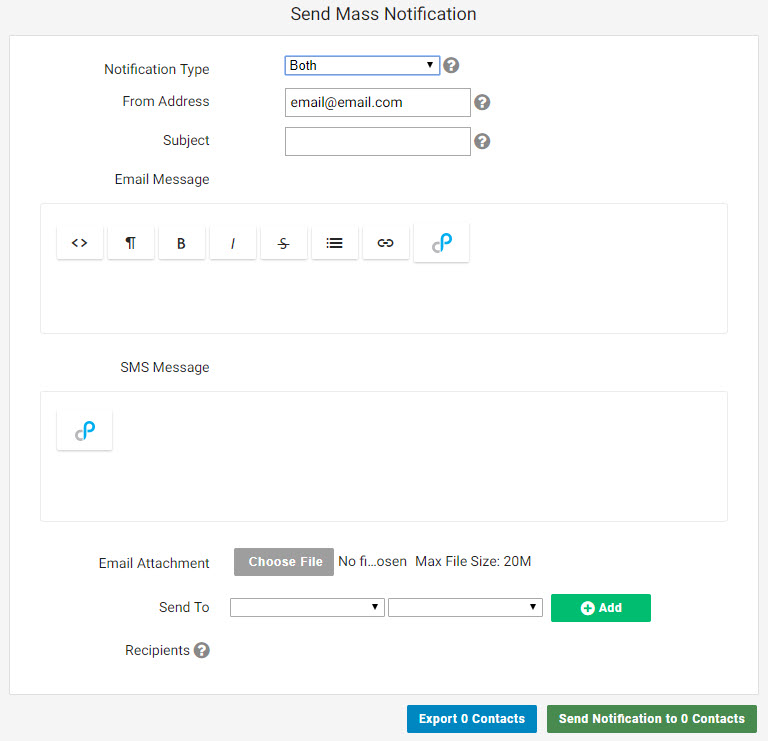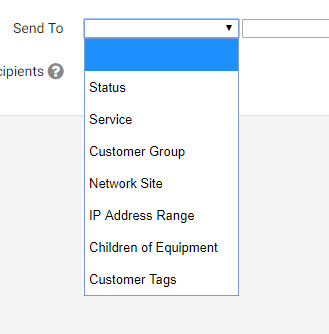 After entering in the email address the notification is coming from and providing a subject, the body of the message can be created. Notice that this feature has many of the same elements as 'System Emails' including variables tied to customer's individual data and html formatting ability. From there choose which of the following seven organizational options apply to your message: Status, Service, Customer Group, Network Site, IP Address Range, Children of Equipment, Customer Tags. Multiple sub options can be selected from the same option behaving as an 'And' operator to expand the reach of a message. Multiple options can also be selected also functioning as an 'And' operator to specify the exact customer criteria to be reached. Be aware that a customer will be included if it meets any one criteria in each option group.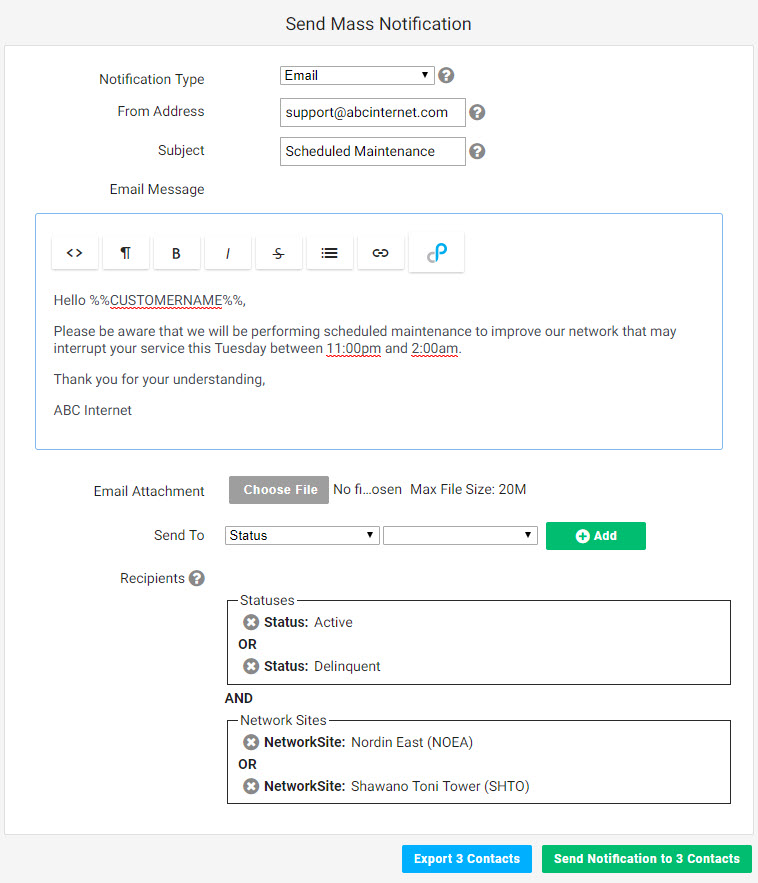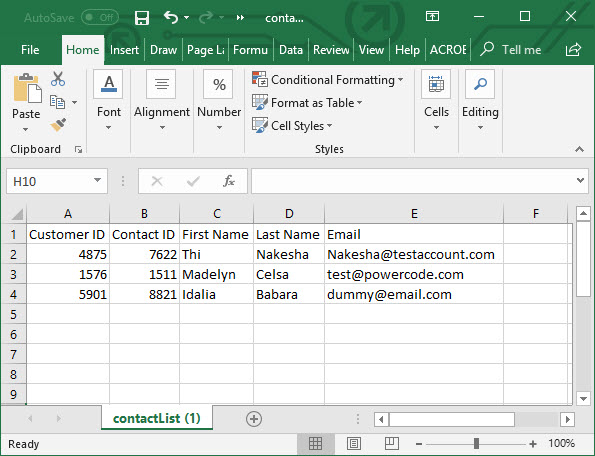 In the example above, an account that was delinquent and served off of the Nordin East Network Site would get this notification as would someone who was active connected to Shawano Toni Tower, but an account with the status of lead off of Nordin East would not. As sub options are being added the two buttons at the bottom update in real time to show how many contacts meet these criteria. Click on the 'Export X Contacts' to see exactly who will receive the notification if sent. Make sure to always pay attention to the status as you will rarely want to message accounts that are no longer customers.